Advanced Cataloging Options dialog (v7/v8)
---
---
This dialog is called from the Catalog menu. The dialog has 4 tabs:

Note that for a number of formats you must have QuickTime installed in order for Portfolio to be able to create new thumbnails.
Thumbnail Size. This setting determines the size (in pixels) of the thumbnails created and stored by Portfolio - either 112 x 112 pixels, or 256 x 256 pixels. If you want to display 256 x 256 thumbnails in your catalogues, you must set the Thumbnail size to the higher setting. If your Catalogue views only require thumbnails that are 112 x 112, 64 x 64, or 32 x 32 pixels, you can leave this setting on 112. The lower setting will result in Catalogues that are smaller in size. Also see the manual page 26, which discusses reasons why you might alter this setting. Using extracted thumbnails may improve the speed of cataloguing, since Portfolio doesn't have to generate a thumbnail for each catalogued image. Using extracted thumbnails also allows Portfolio to display thumbnails for files types not otherwise supported. For example, Portfolio can't generate a thumbnail for QuarkXPress documents, but it can extract the preview image that QuarkXPress 4.x and later embeds in each document. This enables you to display a thumbnail image for each catalogued QuarkXPress document, instead of just displaying a QuarkXPress icon.
Extract thumbnail. When ticked, Portfolio will use and embedded thumbnail if one exists or else create its own. When not selected, Portfolio will always generate its own thumbnail. The v5 handbook also suggests that if you are adding QuickTime movies, you do not use the Extract Thumbnail option. You will get a larger thumbnail for the movie if you let Portfolio create it, rather than having it extracted.
Do Not Catalog Items that Cannot be Thumbnailed. Turn this on if you don't want Portfolio to catalogue files for which it can't either extract or generate a thumbnail. If Fast Cataloguing (see below) is enabled, this option is greyed out and ignored - whatever the current setting.
Enable Fast Cataloging. New in v8.0+. Enables the cataloguing of your files in two phases. This allows you more quickly to view and manipulate your catalogued files immediately after the first phase of cataloguing. The first pass extracts thumbnails (if so set) collects basic file data and creates a valid record; such part-completed records show an orange-yellow dot on the thumbnail. Once the first pass is complete for all records the second pass, finishes cataloguing - creating thumbnails/previews, full metadata extraction, etc. Files which fail to correctly complete both phases are marked with a red dot on the thumbnail.

The properties here apply to both Add and Update operations.
Extract Metadata. Opens the Metadata Properties Settings dialog.
Create Keywords from Path. (Also see the manual page 24.) Choices are:

File Name. The file name only is added as a keyword to the Record's 'Keywords' Field.
File and Folder Name. The file name and name of the folder holding the file are added as a keywords to the Record's 'Keywords' Field.
Path Name. The path to the original file is added as a keyword to the Record's 'Keywords' Field.
Path Name and Volume. The path to the original file and it's volume name are added as a keyword to the Record's 'Keywords' Field.

Extract Description. You may chose for the extracted text to replace existing values (during Update) or to append it to existing text.
Index Document Text. If selected, the text from PDF and plain text files is indexed. There is an option to set an exclusion list of any words you do not wish indexed (e.g. 'the', 'at', 'he' , etc.). If ticked you may open the Edit Exclusion List dialog that allows you to add any words which Portfolio will then ignore when cataloguing files: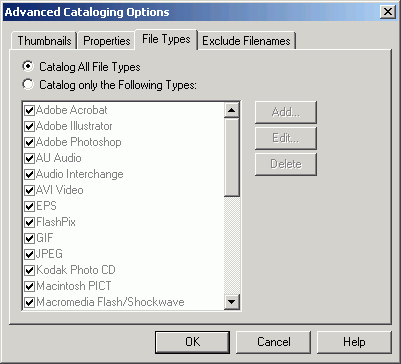 Portfolio is capable of cataloguing virtually every type of digital file, and by default the program is set up to catalogue all file types. If you want Portfolio to catalogue only specific types of files - such as JPEG or TIFF files - or to ignore (and therefore not catalogue) certain types of files, you can set such limitations up in the File Types panel. You may, for example, want to catalogue all the digital photos on your hard drive, telling Portfolio to ignore every file except the JPEG and TIFF files that it finds. Or, you may decide you want to catalogue every file in a folder except for font files. You can specify such exceptions in the File Types panel. To exclude certain file types from being catalogued, in the File Types panel of the Advanced Cataloging Options dialog box, change the radio button setting from Catalog All File Types to Catalog only the Following Type. Now, in the File Types list, clear the checkmark next to each file type that you don't want Portfolio to catalogue by clicking on the check mark. You can Add or Edit individual mappings using the buttons provided which opens the File Type dialog:
Note the two check boxes 'Store Locally' (Mac - 'Store in Preferences') and 'Store in Catalog'. Store Locally stores the mapping in the client. If only stored locally, only that user sees the mapping. If stored and/or in the Catalogue then all users of the Catalogue have access to the mapping. The 'Same As' button opens an OS file dialog which allows you to navigate to a file of the same type as you are defining and Portfolio uses that file's information to complete the dialog.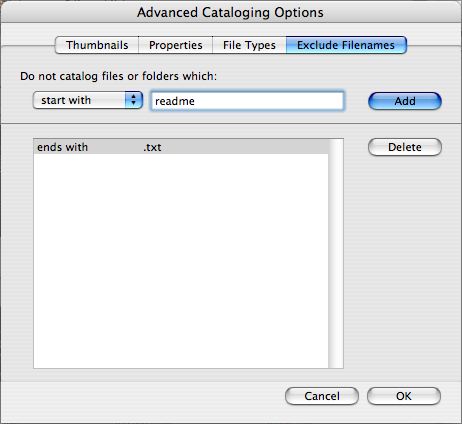 Portfolio is capable of cataloguing many types of digital file, and by default the program is set up to catalogue all file types. But you may want Portfolio to catalogue only specific types of files - such as JPEG or TIFF files - or to ignore (and therefore not catalogue) certain types of files. For example, you may want to catalogue all the digital photos on your hard drive, telling Portfolio to ignore every file except the JPEG and TIFF files that it finds. Or, you may decide you want to catalogue every file in a folder except for font files. You can specify such exceptions in the File Types panel, e.g. to exclude TXT files by using "Ends With" + "TXT".



Question: Advanced Cataloging Options dialog (v7/v8) [FAQ00077.htm]
Last Update:- 28 January 2008
---
---
---
---
---
This FAQ is created and maintained using

Friday - The Automatic FAQ Maker