Export 'pnot' data (v6 Mac)
---
---
Manual: v5 - Page 190 (PNOT), v6 - Page 128-9
This dialog is called from the File menu: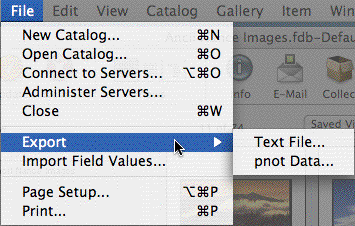 It calls this dialog: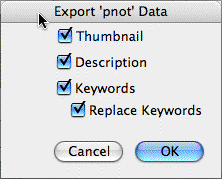 This is is a method whereby Portfolio - on Mac OS only - writes data in QuickTime 'pnot' format into the resource fork of an original file. The only options available are those shown on the dialog above and others, such as custom field data, are not supported.
To understand more about how 'pnot' data works see here.
Question: Export 'pnot' data (v6 Mac) [FAQ00047.htm]
Last Update:- 31 May 2006
---
---
---
---
---
This FAQ is created and maintained using

Friday - The Automatic FAQ Maker